Courtesy of the Huffington Post
Last weekend I had the opportunity to participate in the 2014 Truman National Security Project Conference where several impressive speakers offered a reminder that many of our country's groundbreaking advances have come out of The Pentagon. The "mysterious" DARPA Program has developed thing that initially only had military aims - such as, the Internet, GPS, and even duct tape, that have since become ubiquitous all over the world. Many invaluable medical, aerospace and engineering advances can all be traced back to the military.
As a member of the Truman Project, I've had the opportunity to meet remarkable people from all over the country. However, among the most impressive men and women in the organization are the military veterans. With a distinguished history of forward-thinking innovations, it was no surprise to hear that many of the veterans at the conference are honing in on our dependency on foreign and fossil fuels as one of the biggest challenges of our generation.
Many of them are involved with Operation Free, which advocates for securing America with Clean Energy. Our military veterans, who have literally been at the front lines of battle, are now at the front lines of moving the American military and country off of fossil fuels. These brave men and women who witnessed their comrades in arms losing their lives as caravans of oil and gas had to drive through deadly warzones are now pushing for things like using wind power and solar power in those remote forward bases.
The numbers speak for themselves. We spend roughly $85 billion annually - about 17 percent of the Defense Department's total budget -protecting the oil choke points throughout the world. At the height of the Afghan war, out of every 24 convoys there was at least one casualty. This statistic hits even closer to home when noting that fuel is half of all convoys loads.
That's not even the really bad news. Ready? According to the Quadrennial Defense Review, fossil fuels use exacerbates environmental problems that can lead to regional, national and global instability, making it (yes, this is a scary term) a "threat multiplier".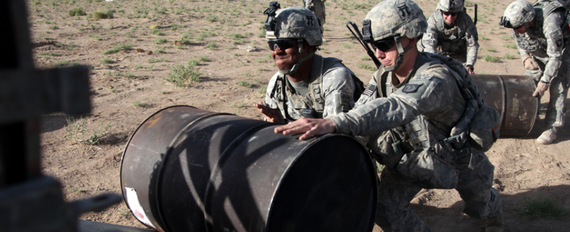 Fossil fuel use is correlated with increasing our greenhouse gas emissions, and as reported in the recently released National Climate's Assessment, "Climate change, once considered an issue for a distant future, has moved firmly into the present." The projected increase of extreme weather and sea-level rise will place an added burden on the military because we're the best first responders in the world. Right now, our military receives a foreign disaster request once every two weeks, a number that has been on the rise in recent years. As the world's largest and most powerful military, we will play a large role in stabilizing areas of the world where our security interests lie (see: Pakistan, flooding in).
It's that simple, the use of fossil fuel is a threat to our national security.
Operation Free has already seen tangible results. In just the last week, Senator Mark Udall (D-CO) and Congressman Scott Peters (D-CA, 52nd), were joined by formerCongresswoman Gabrielle Giffords to introduce a landmark piece of legislation: The Department of Defense Energy Security Act (DODESA) - which will enable our military to use energy more effectively.
This is one of those issues that tends to sit badly with economic conservatives. While they are wary of renewable energy initiatives as being economically non-viable, in this case one of corporate America's favorite piggy banks, The Pentagon, is ready to dole out the mega-bucks. Navy Secretary Ray Mabus has said these investments are imperative "So we can become better warfighters". This isn't only Birkenstock wearing hippies pushing for this change; it's the military leaders and service members.
And now, Hollywood is hearing the military clamor for change and new movies are being produced. This is a story about our national security that needs to be told and Roger Sorkin is doing just that's Sorkin Productions is creating a documentary that will likely get everyone's attention - the same way "An Inconvenient Truth" did eight years ago. "The Burden" is the kind of film that people inside and outside of the beltway will be drawn to, argue about and change their thinking around. It is also the kind of project anyone concerned about the future should get involved in.
The reality is that for far too long the narrative about renewables and clean energy has tilted towards the doom and gloom of climate change and that's the wrong way to do it. America has always been optimistic and inspirational and innovative it's time to tell the tale of how the entire country will move forward if we support the military in its quest to innovate.
Follow Elie Jacobs on Twitter: www.twitter.com/eliejacobs